After many years of experience, including working as a partner in another local firm, Michael Jones decided to set up his own firm in 1997 and Jones, Hunt & Company was born.

Since 1997 our firm has steadily grown, with our client base expanding and diversifying.

Situated in Ickleford, just outside Hitchin, our clients are prodominately based in the Herts, Beds and Cambs area. We do however have a number of clients up and down the country, and even a handful of clients based abroad.

Our company has a great team ethic and are constantly working together to better ourselves and the services we provide. We are constantly striving for perfection as we feel this is what our customers deserve.
Serviced Areas
Contact Details
I would recommend this business
The team at JHK have always been extremely helpful. They have also provided specialist help to my company for furloughing staff during the covid-19 lockdown.
| | | |
| --- | --- | --- |
| Value for money | | |
| Service & support | | |
| Quality | | |
| Location | | |
| Overall rating | | Excellent |
Customer Testimonials
Very professional service, I found them to be approachable and knowledgeable and ultimately competitively priced.

I would certainly recommend
Social Activity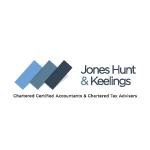 Jones Hunt & Keelings - Coronavirus Update 28th April 2020 - https://t.co/Pdg14KwfOY https://t.co/a66TZhRh14
The services we provide: -Payroll and PAYE Returns -VAT Returns -Tax Planning -Personal Tax -Company Secretarial -C https://t.co/JI8lBRJkep
From Our Website
With offices in Hitchin and Old Hatfield, we offer a professional personalised service, tailor-made to meet your requirements. Our services include business accounts, corporate or personal tax, Payroll or VAT. We also provide expert specialised advice in all areas of personal or company taxation. We believe in investing time to all new clients. In our experience this initial time allows us to get a strong understanding of your business or situation, which will help us provide the best possible service to you.
---
Choosing an accountant is an important decision and you need to find one that matches your needs, you feel comfortable with, can trust and whose fee levels are fair. You can call us whenever you need help and advice, without fear of being charged every time you make a phone call. Here are some of our services that we can offer you. We speak to you openly and honestly and promise not to blind you with jargon. We want you to feel comfortable to pick up the phone to us whenever you need, for whatever you want and know you'll get good sound understandable advice.
---
Quoted in advance of the work and related to the value of work to be completed so that you know where you stand. That is unless you prefer to be charged on an hourly basis. You can call as much as you need without charge. It can be about anything - tax, business ideas, just someone to use as a sounding board or whatever you need. If you need help and we can provide it on the phone, it's FREE. Whenever you wish to meet up, any meetings at our offices are always provided FREE of charge. You have the right to these whenever you feel the need.
---
We are a dedicated team which strives to provide success to our clients in regards to all their accountancy needs. Our team is very close-knit and ensures that a unified support is provided to you whenever you need it. With expertise covering all aspects of accountancy, taxation and business advisory services, we are well placed to take a holistic view to planning for the future as well dealing with specific matters.
---
A: If your existing accountant is offering you an excellent pro-active service at a fair fee then stick with them. However, different accountants will save you different amounts of tax and provide different levels of business advice. If your present accountant doesn't offer the type of service you want and that we do offer, then changing over to us is very easy. It involves just one letter from you and we take care of everything else for you. Your existing accountant is not usually allowed to charge you for providing the normal handover information.
---
At Jones Hunt & Keelings, we offer a personal and professional service focused on the needs of each individual client or family. Our service is built on our ability to understand what you want to achieve in the short, medium and long term. This means that we are by your side when you need us, we have the experience to distill the key consequences of business decisions and we're always thinking about your tax position.
---
The information provided on this web site is of a general nature. It is not a substitute for specific advice in your own circumstances. You are recommended to obtain specific professional advice from a professional accountant before you take any action or refrain from action. Whilst we endeavour to use reasonable efforts to furnish accurate, complete, reliable, error free and up-to-date information, we do not warrant that it is such. We and our associates disclaim all warranties. The information can only provide an overview of the regulations in force at the date of publication, and no action should be taken without consulting the detailed legislation or seeking professional advice.
---
Please feel free to use our online tax resources page to help guide you through the world of tax. To make the most of our resources, make sure to sign up to our free monthly e-newsletter to help you keep on top of new developments. Our resources page provides you with a starting point for the majority of subject help areas for the general business owner. We have tried to cover the most common FAQ's from our customers regarding tax and business queries. From tax and business calculators to tax help sheets and collecting market data.
Nearest Businesses